The world of real estate is constantly evolving, and in order to stay ahead of the curve, it's essential to keep your online presence fresh and appealing. That's precisely what The Vetere Team, a well-established Ontario real estate team, has done with their brand-new website. Built by our expert team at Gavamedia, their old website has undergone a remarkable transformation, aligning it perfectly with today's digital landscape. Let's dive into the exciting details of The Vetere Team's revamped site.
Elegant Design Elements
One of the most noticeable aspects of The Vetere Team's new website is its stunning design. The incorporation of gold and grey stripes, perfectly matching their logo, gives the new website an air of sophistication and modernity. The choice of colours not only reflects the team's professionalism but also creates a visual harmony that engages visitors as soon as they land on the site.

Comprehensive Coverage: Areas of Service
One of the essential features of The Vetere Team's new website is its ability to showcase the areas they serve. Real estate is all about location, and prospective buyers or sellers need to know that they are dealing with experts who are intimately familiar with the region. The new website offers detailed information about the specific areas of Ontario that The Vetere Team covers, providing valuable insights to potential clients.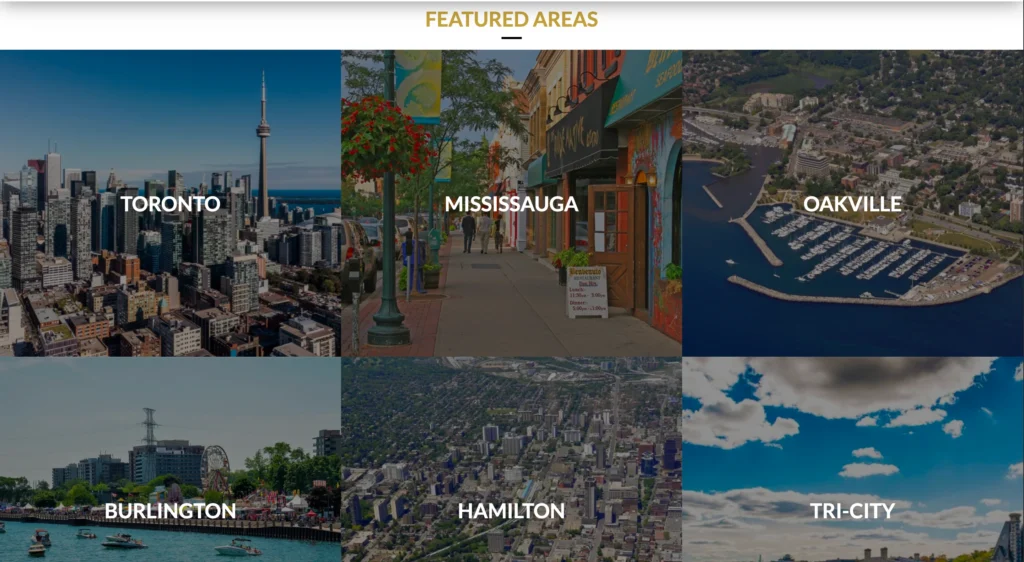 Rave Reviews: Testimonials That Shine
The Vetere Team's commitment to excellence doesn't end with aesthetics and functionality—it extends to the client experience as well. To showcase their stellar track record and the satisfaction of their clients, the website features a dedicated "Testimonials" page. What sets this section apart is the meticulous attention to detail. Each testimonial is given its own white box with a subtle shadow, creating an elegant and eye-catching effect that draws the reader's attention. But that's not all—scrolling through the testimonials is not just informative; it's a delightful experience. As you scroll down, each testimonial gracefully flies upward, adding a touch of playfulness to the otherwise professional and polished site. These testimonials serve as a powerful endorsement of The Vetere Team's expertise and dedication, giving potential clients the confidence they need to make the right choice in their real estate journey.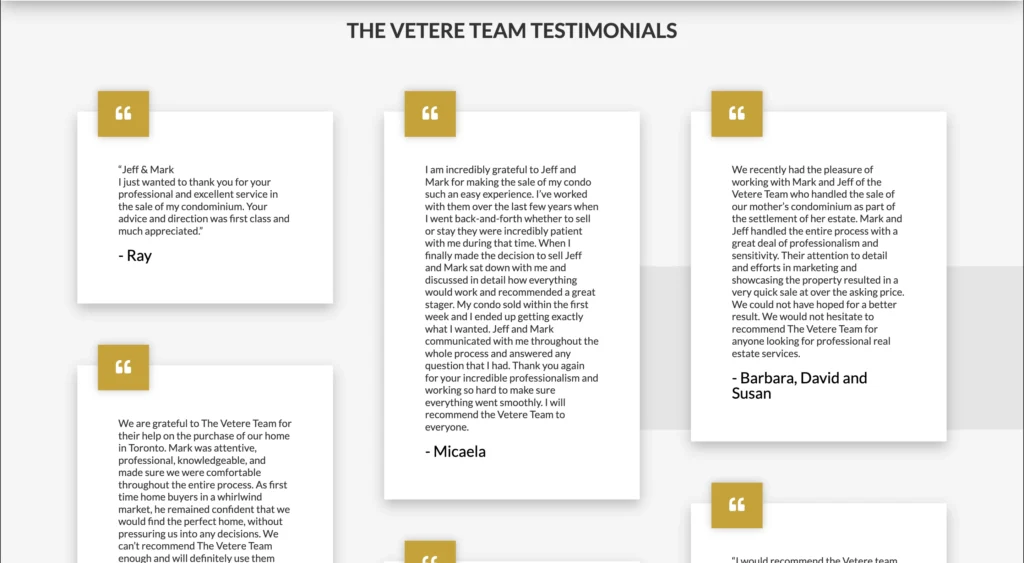 Organic Real Estate Integration: The Power of Technology
Gavamedia's "Organic Real Estate Integration" WordPress plugin is a game-changer for The Vetere Team's website. Our innovative plugin seamlessly showcases all of Ontario's real estate listings right on their new site. Visitors can browse through the latest properties, giving them a one-stop solution for their real estate needs. This integration not only enhances user experience but also positions The Vetere Team as a leading authority in the Ontario real estate market.
An enhanced "About Us" page
The Vetere Team's "About Us" page is not just a mere introduction; it's a treasure trove of information that showcases the wealth of expertise within the team. Here, visitors can explore detailed profiles of each team member, gaining insights into their professional backgrounds, qualifications, and specialized areas of real estate. The meticulously crafted profiles not only inspire confidence but also highlight the depth of knowledge and commitment that each member brings to the table.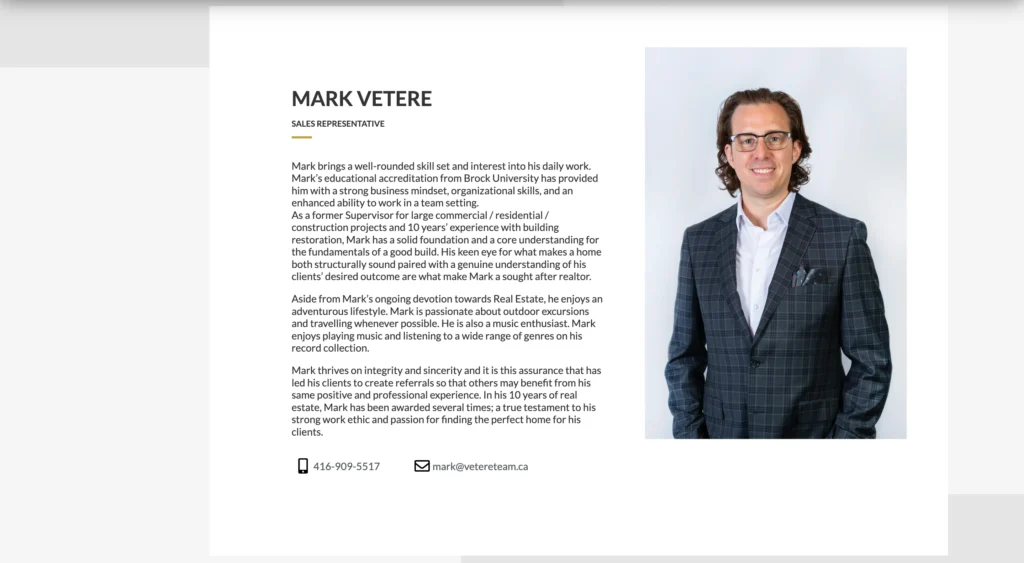 Easy Editing and Maintenance: WordPress and Elementor
Behind the scenes, the new website has been built using WordPress and Elementor, two powerful tools that make editing and maintenance a breeze. This new platform ensures that The Vetere Team can keep their website up-to-date with ease, providing visitors with accurate and relevant information at all times. It's a practical choice for a dynamic industry where information changes frequently.
A Testament to Long-Term Client Satisfaction
The Vetere Team and Gavamedia share a longstanding partnership that spans many years. This enduring relationship speaks volumes about the service and results that Gavamedia consistently delivers to our clients. While our previous website had served them well, it was time for a change. The Vetere Team was ready for a fresh look and enhanced functionality to better serve their clientele.
The Vetere Team's new website is a testament to the commitment to excellence and adaptability that both the team and Gavamedia exemplify. With its elegant design, comprehensive content, and cutting-edge technology integration, this website positions The Vetere Team as the go-to choice for anyone seeking real estate services in Ontario. As the real estate landscape continues to evolve, having a modern and user-friendly website is crucial, and The Vetere Team has certainly risen to the occasion with their new website.