Making a completely custom design and logo
Working with a graphic design team in Newfoundland, Rogue Penguin, GAVAMEDIA developed this completely custom website for Explore St. Lawrence. The current selected page is indicated by a unique triangle design. This triangle is repeated in various design elements seen on the website. In the header, the page you are currently on is highlighted by the triangle over your current page. The middle of the slideshow also makes a triangle design. Tourism website development is one of Gavamedia's specialties.
How do we showcase the the town of St. Lawrence?
We list four of the most fun places to visit right on the home page. On the "Visit Us" page, we have an interactive map that shows the location of where all these places are and when you hover an icon, it shows a photograph of what the place is and sometimes a map of where they're located.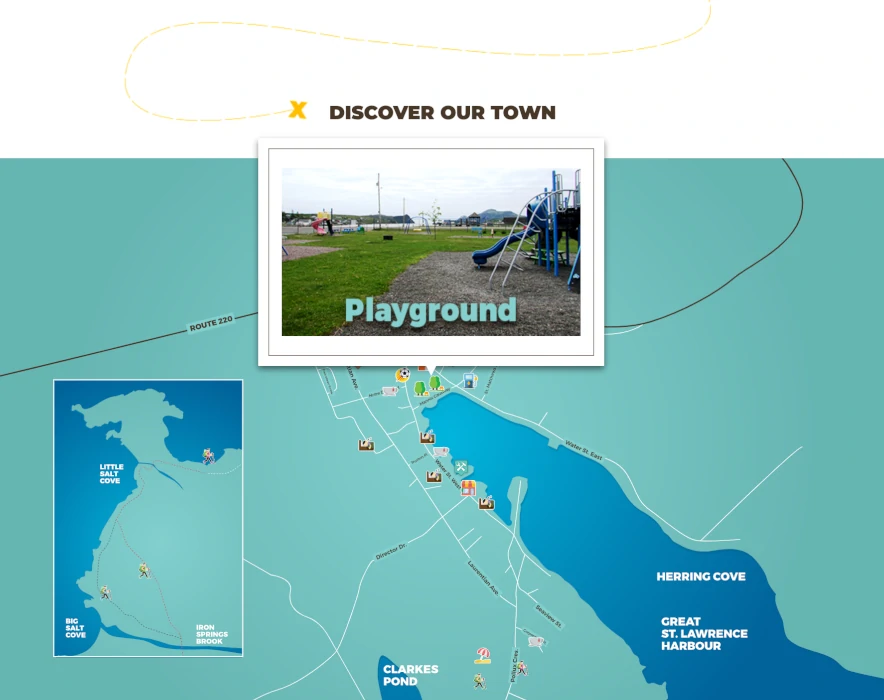 The town of St. Lawrence can add or remove these points of interest at any time. This is not a static photo, but rather an interactive map.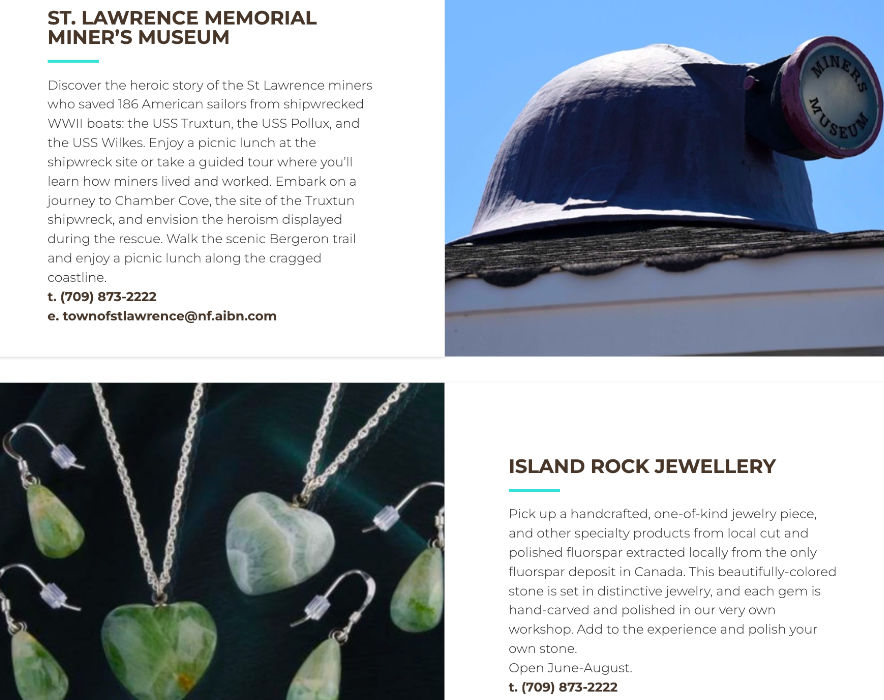 The site features photographs taken from local artists. *screenshot*
We also show fun things to see and do on the "Places to go" page in an accordion style menu, which works perfectly for a mall town like St. Lawrence. When you click a point of interest, it expands and shows more detail about the destination. The town of St. Lawrence is able to come in and edit this accordion at anytime, being able to add or remove business or places of their choosing.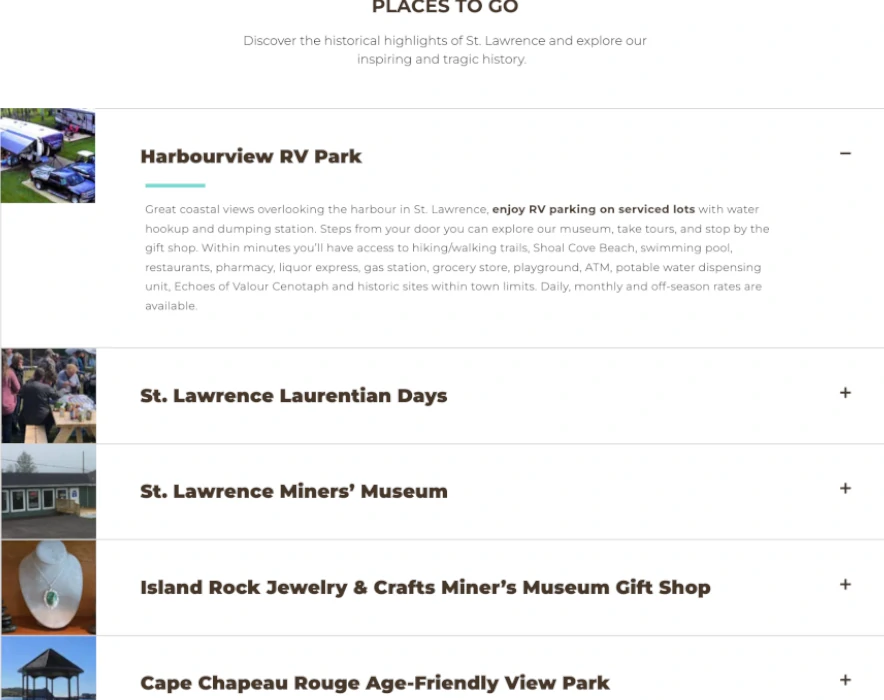 How do people contact Explore. St. Lawrence?
We have a quick contact form in the footer. People can also reach out to Explore St. Lawrence by going to the Contact Us page and filling out a form there. Also other ways to contact either by phone or mail.
What ways do we showcase their story?
We have a slideshow at the top of the page that gives a brief history of their town at the top of the page. We also list a timeline of important events throughout the history of St. Lawrence. The timeline spans from the year 1583 to 2006. A timeline like this for St. Lawrence benefits greatly to show their rich history for this area.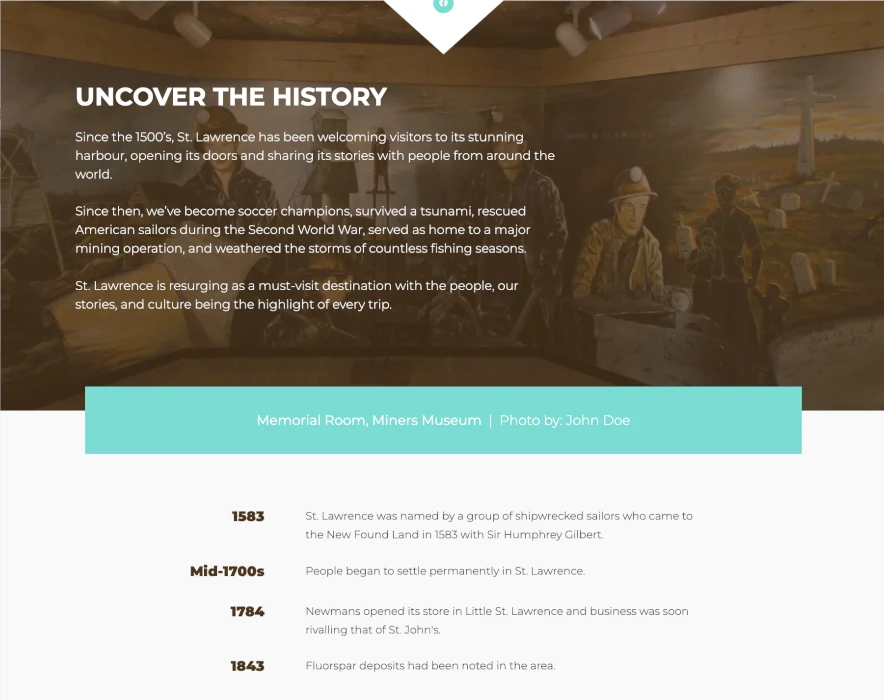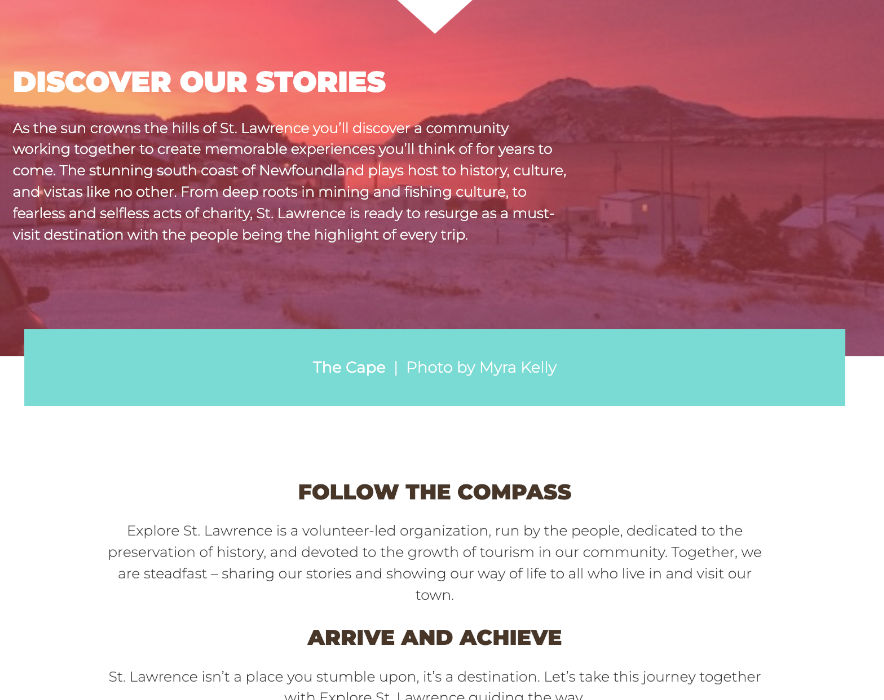 Tourism Website Development
GAVAMEDIA specializes in all kinds of websites, including tourism sites. Contact the helpful GAVAMEDIA support team to get started today.
Visit the site: explorestlawrence.ca