Cooper Custom Homes is a company that focuses on renovating homes and building custom homes. The design team for making this website came up with a unique way of matching the layout at the top of the site to match the Cooper Custom Homes company logo which consists of multiple squares of different shapes and sizes. Website for home renovators is one of Gavamedia's specialties.
The logo is incorporated in the design of the page, as the layout of sections matches the shapes of the company logo including the orange square.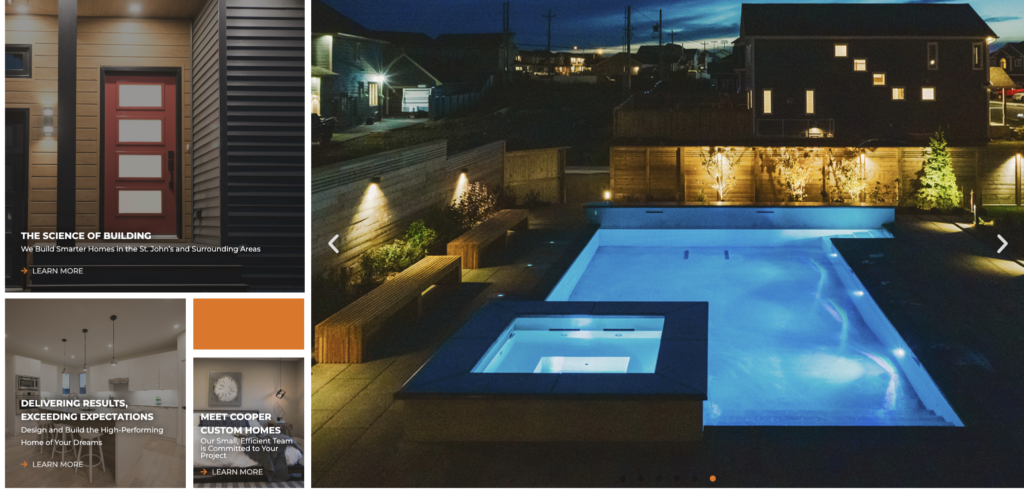 These squares also animate from all different sides of the screen for a fun introduction to the site. The largest square on the page showcases Cooper Custom Homes latest work in a slideshow with photos of projects they have completed.
Another unique thing on this website is the way the navigation menu is displayed. Instead of being at the very top of the page horizontally like most websites, the Nav Menu is located on the left as a sidebar style which remains stationary as you scroll throughout the site.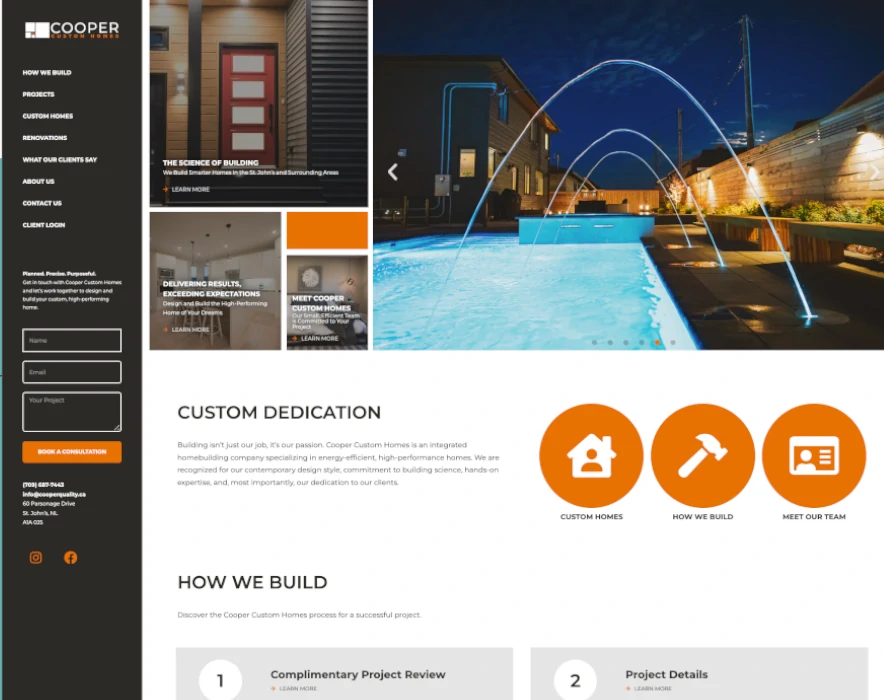 Who is the target audience?
The target audience for Cooper Custom Homes is for people who are looking for home renovations or building custom homes. People who would like to have a custom home on a vacant lot is right up Cooper Custom Homes ally.
How do we prove this is a credible website for home renovators?
Further down on the homepage are client testimonials. What makes these testimonials unique compared to other testimonials that we've done for other websites is we include photos of their work. We also have included a dedicated a separate page called "What our clients say", which shows more testimonials that go into more detail on how clients have enjoyed their work that was done. It also displays the names of clients.
How do we show Cooper Custom Homes recent work?
This website has multiple slideshows of pictures throughout the site showing their fancy home renovations and custom homes. We find that slideshows are the easiest and most visually appealing way to display photos as they can animate by sliding to a different photo.
How do we showcase their process?
We created a dedicated page called "How We Build" with a numbered list on the four main stages of how they operate. Beside that is also a slideshow in the companies logo pattern showing their recent work.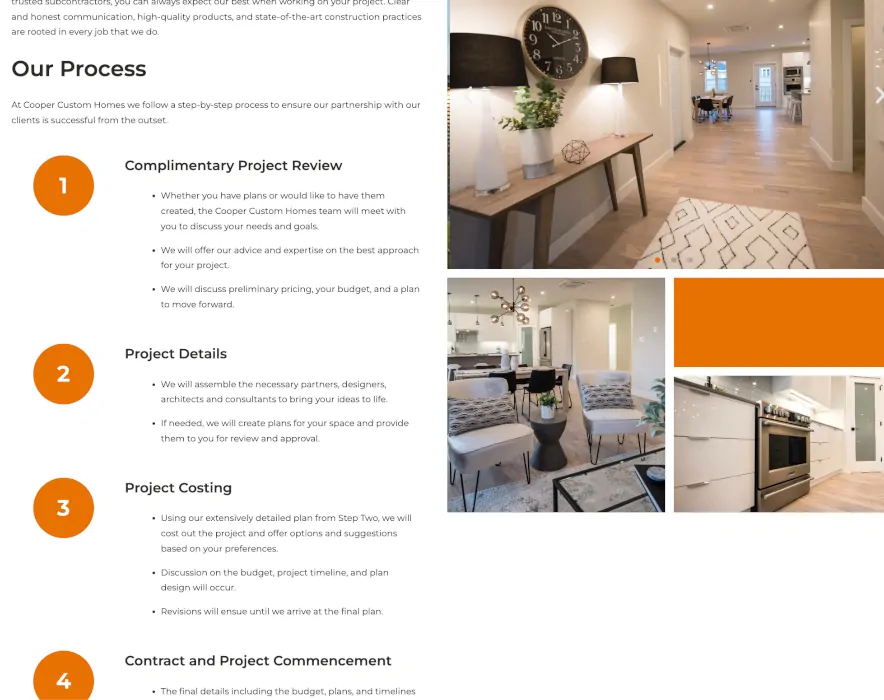 We have also showcased the different options of how people can go about choosing what service they would like between New Home Construction or Renovation Projects.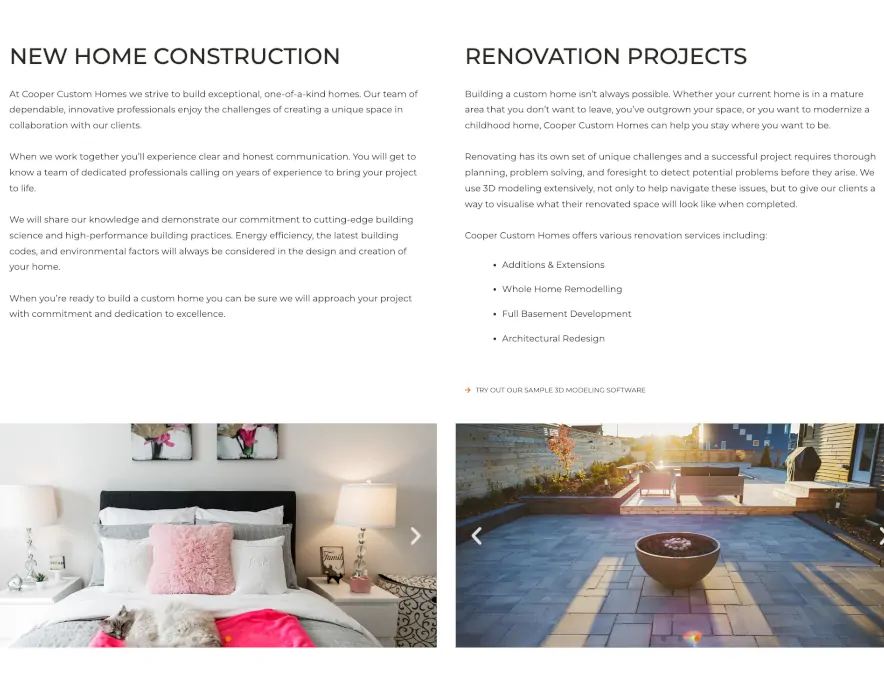 How do we showcase new custom homes?
We also have a dedicated page for this called "Custom Homes". This page showcases their recent projects. Instead of using a slideshow, this time we used a grid layout where you can see multiple pictures on the right side and click to enlarge it on the left side.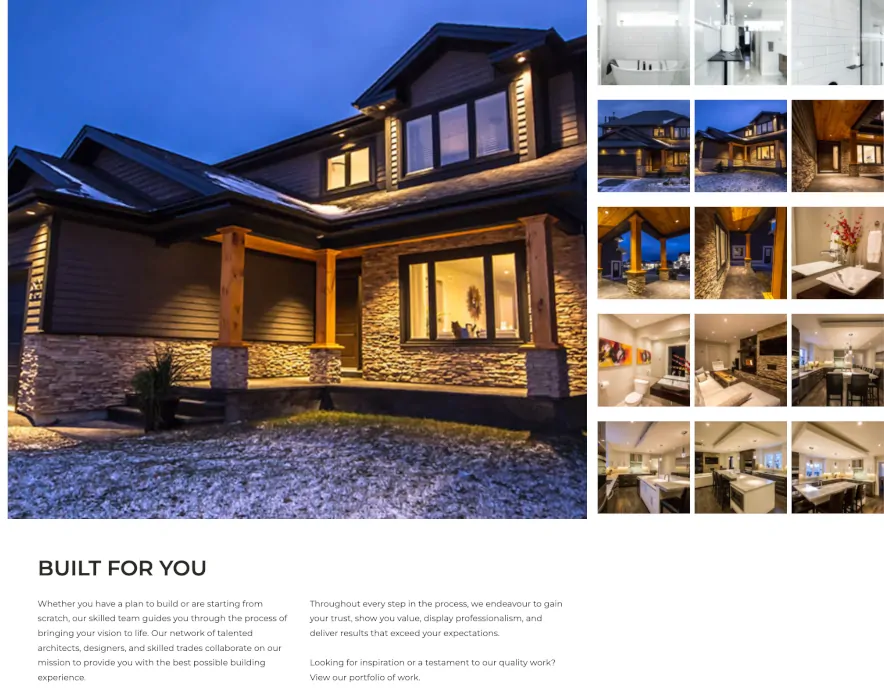 How do we showcase renovation projects that Cooper Custom Homes provides?
Not only does Cooper Custom Homes renovate the inside of peoples houses by adding custom bars, but they also do outdoor renovations. They can put in pools with hot tubs, and also even basketball courts.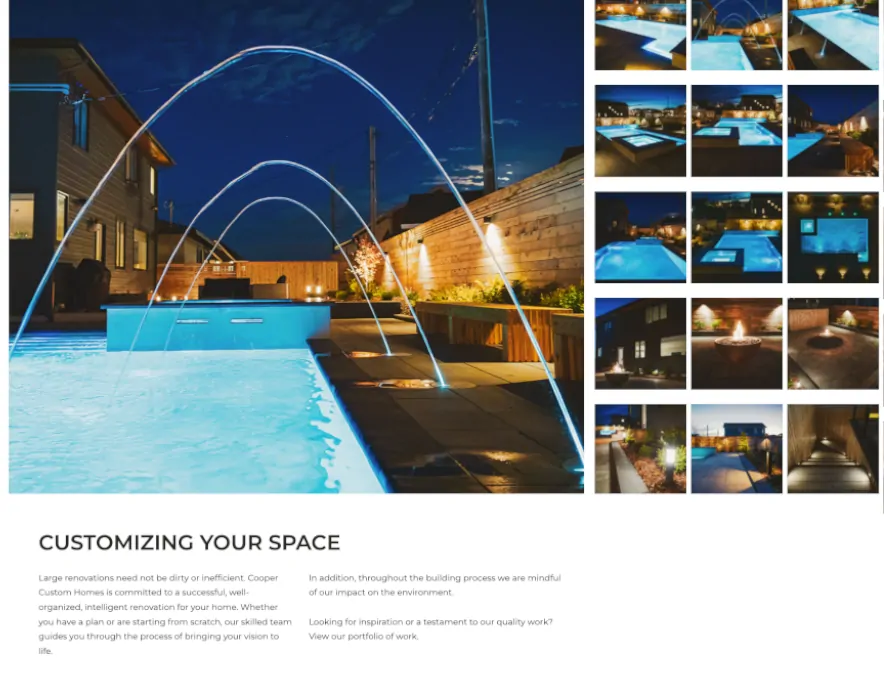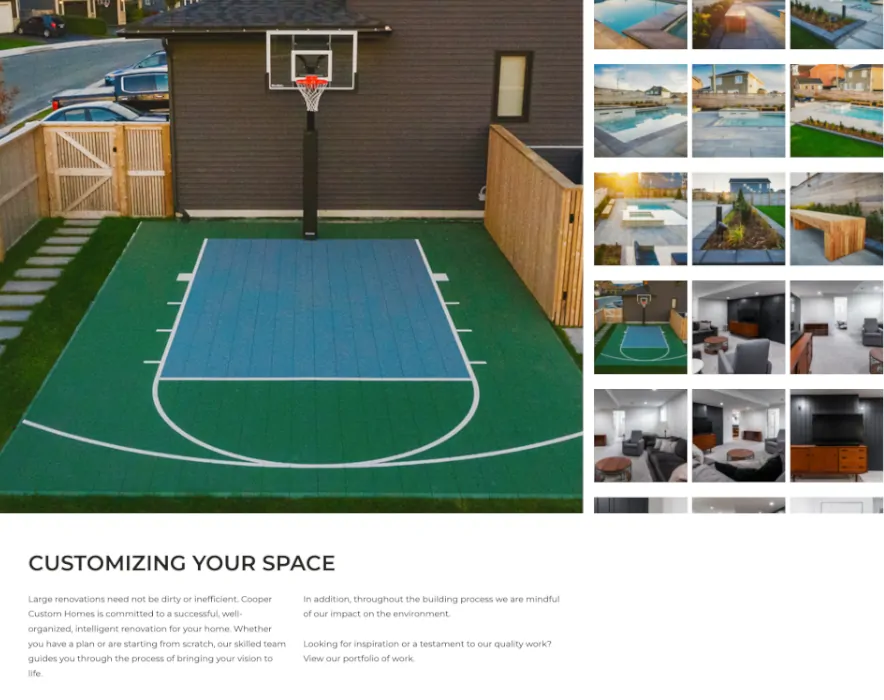 How do we showcase the Cooper Custom Homes team?
The About Us page displays the team members at Cooper Custom Homes. The page displays a photo of each member beginning with the owner of the company, as well as their job title. The owner Grant Cooper has a brief synopsis about him.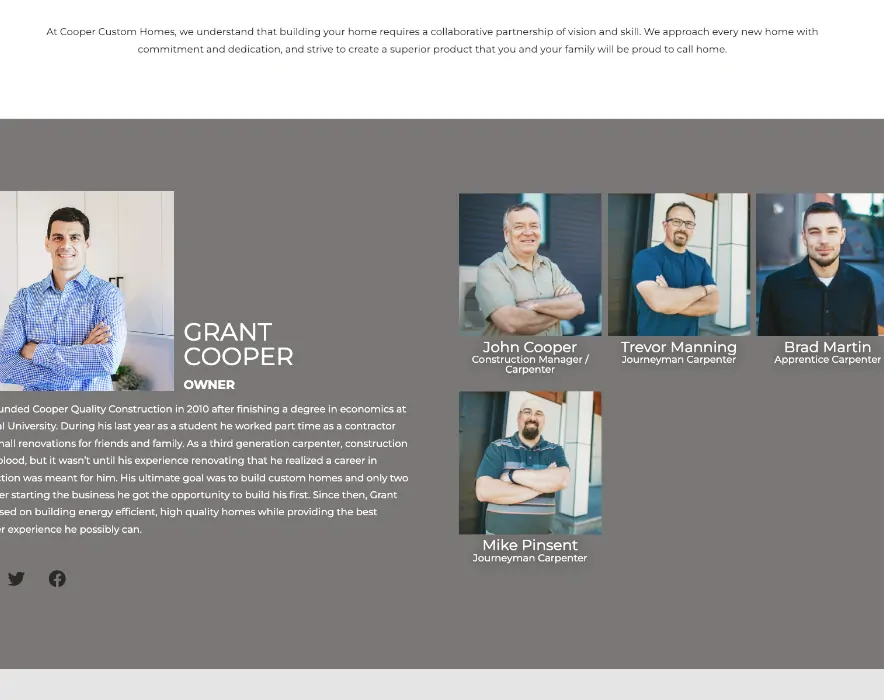 How do you contact Cooper Custom Homes?
We made it easy to contact Cooper Custom Homes. Not only do we have a "Contact Us" page that includes an easy form to fill out, we also have a form in the side bar navigation menu that can be accessed on every page for quicker service.
How do we integrate with 3rd party renovation software?
We have a dedicated link on the navigation side bar called "Client Login" which we've integrated with the Co-constuct Platform. This program is an easy tool for Cooper Custom Homes to show clients their progress of their progress on a scheduled timesheet. The Co-constuct Platform can be used for any construction platform.
Website for home renovators
GAVAMEDIA specializes in all kinds of websites, including home renovators . Contact the helpful GAVAMEDIA support team to get started today.
Visit the site: coopercustomhomes.ca