Building a website for coops has its own unique challenges. Because cooperatives feature many different organizations and members, it's important to convey the reasons to join. Visually showcasing the "perks" of becoming a member are especially important.
Who is the target audience?
The target audience of websites like this are owners or operators of organizations that could be interested in joining a co-op. This means the website must convince these key decision makers that your co-op is worth joining. To achieve this on the NLFC website, we focused on real existing members, shown on the homepage, as well as giving an overview of all the benefits. We also provided a variety of ways to learn more about why someone should join their co-op.
How do we prove you're credible?
Social proof is a helpful way to demonstrate your coop's legitimate advantages. This is where we display actual member testimonials right on the homepage, as well as on a few other sub-pages too. Quotations directly from your members is an excellent way to add legitimacy to your website.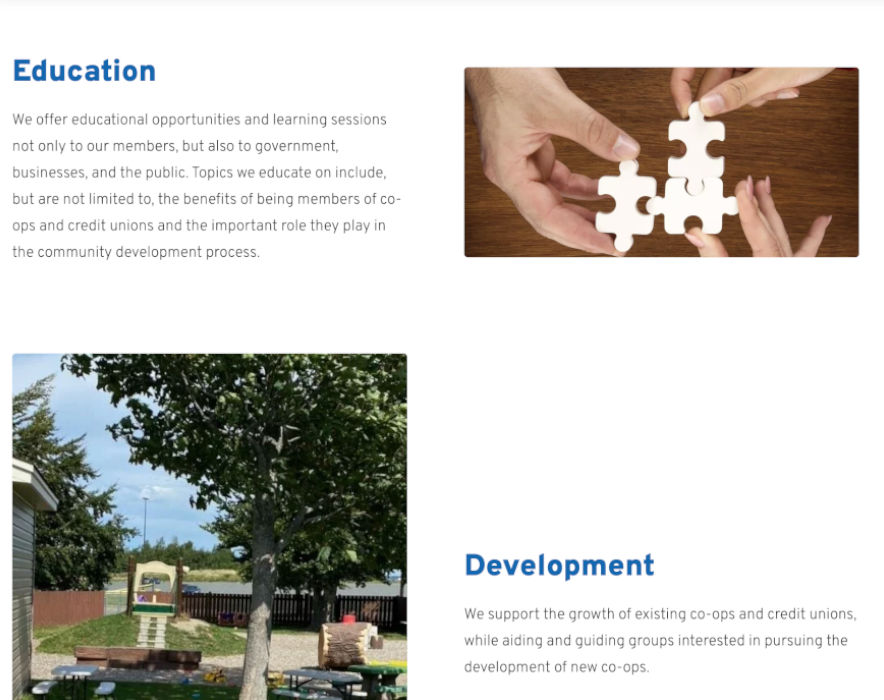 How do we showcase a team?
Another important concern when building a website for coops is to talk about your management team. A good "about us" page is key to persuading potential members that your coop is worth joining. For this website, we focused on what the mission, vision, and goals are of the NLFC. We also featured a listing of the entire staff, and added a separate page for each staff member. Staff pages include short write-ups about staff members, and what organizations they run.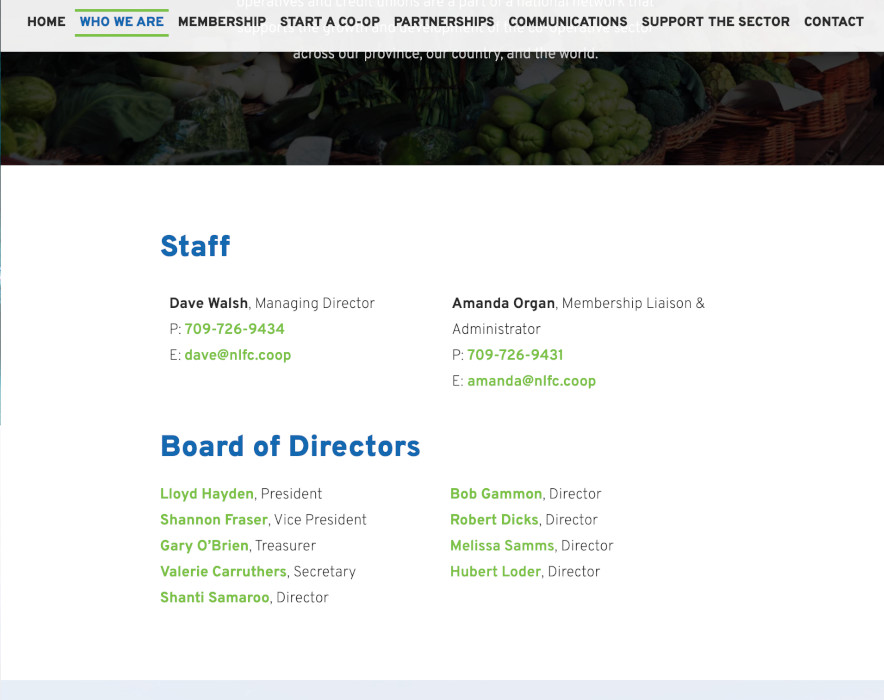 How did we improve new member signups?
To make recruiting new coop members as easy as possible, we've included a new member signup form directly on the website. New members used to fill out physical paper, and hand in (or mail in), their application. Including this form on the website helps streamline the entire signup process. Our online form also helps validate submissions, as it detects typos in phone numbers, email addresses, etc. After new members signup, the NLFC is instantly emailed the entire form, and a digital copy is securely stored as a backup as well.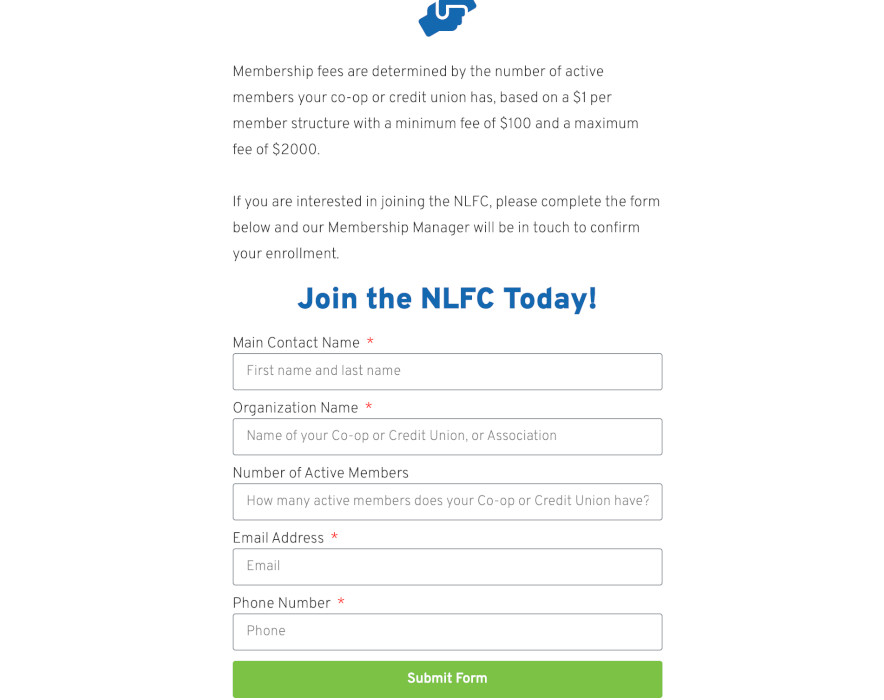 How do we make communicating with the public easier?
Press releases are an affective way to community with the public about what's new in your coop. We built a custom "Communications" page for the NLFC to do just that. This includes a newsletter archive, a list of media advisories, as well as current projects and submissions. The NLFC can easily create new articles themselves, and put them into one of these categories. The article itself will appear in the appropriate location on the page, depending on the category chosen.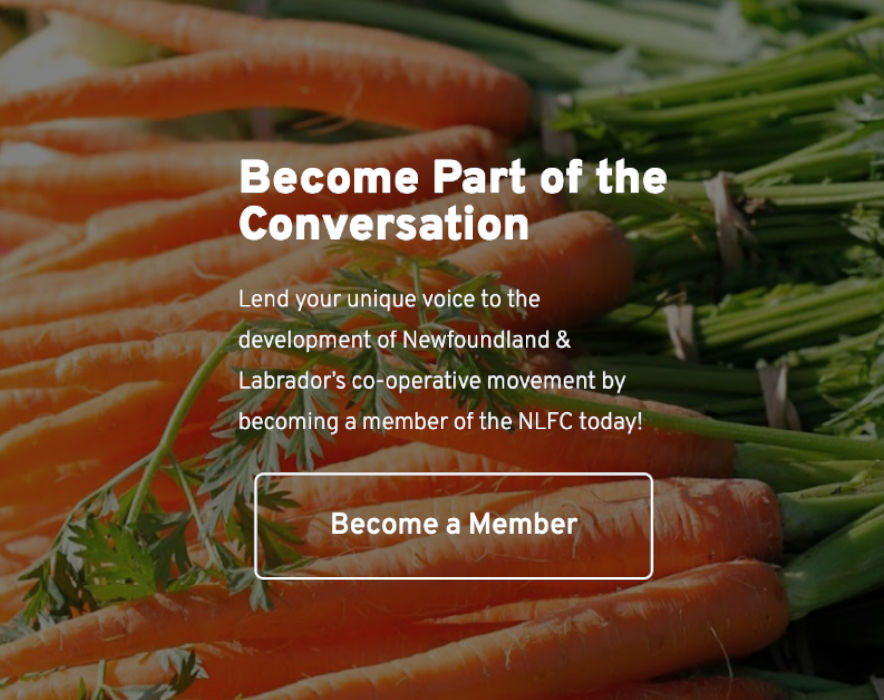 What ways can we convince potential members to sign up?
We spent a great deal of time building the case for coops. The Start a Co-op page featured a lot of written content, which was difficult to lay out visually. We found it affective to showcase the text content on one side, with photos on the other — and then alternate back and forth. We also used icons when we thought it could help make the website easier to read and follow. Some subtle animations also helped keep the page looking fresh and interesting.
How can we showcase all the membership benefits?
When building a website for coops it can be tempting to simply include a huge bullet-point list of all the benefits of joining a cooperative. But this is too difficult to read. On the Memberships, we used a lot of graphics. From photos to icons, we broke up the content in as many different ways as possible. We also included a "Call To Action" slideshow right in the middle of the page, to help encourage interested visitors to join. Further down the page, we include a list of perks, and included relevant icons next to each.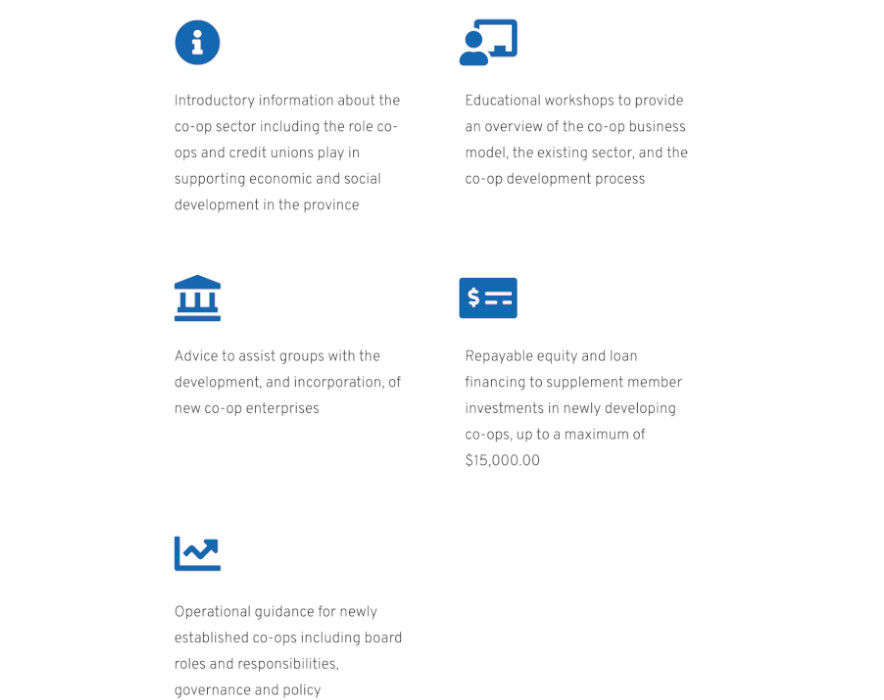 What ways do we list existing members?
Listing existing members of the NLFC was challenging, because of the diversity of the sectors covered. We found that breaking up the members by their sectors was key in helping with readability. We categorized each sector with a title and an icon. This helps visitors find a member quickly, without having to search.
Building a website for coops
Gavamedia's support team has helped keep the NLFC website alive, with frequent updates and assistance.
Visit the site: https://nlfc.coop